CONNECTING COMMUNITIES
through innovative transportation solutions
Win Apple AirPods Pro!
The Merrimack Valley TMA is pleased to announce our Website Launch Promo.
The Merrimack Valley TMA is celebrating the launch of our new website! We have completely overhauled our website to enhance the user experience by modernizing the look and navigation of the site, and we hope you will take a look.
We will reward one lucky viewer with a set of AirPod Pros and here is how:
View the pages listed to find which pages have a blue and white star icon embedded.

There are FIVE pages with stars in total (but you only need to find THREE stars!).
Fill out the FORM below with your name, email, and TMA member company or TMA member residential community name.
Check the box next to THREE pages on which you found the star icon, then click SUBMIT.
The winner will be chosen on Friday, June 17, 2022 via a random number generator from all correct submissions received. Good luck!
Pages to search:

Look for the star icon
Home page
About page
Benefits of Membership page
Become a Member page
Programs Overview page
Community Connect page
Green to Work page
Guaranteed Ride Home page
Newsletters page
Fill out the form to enter the Raffle*
* Raffle is only open to members of the MVTMA
Additional Details
AirPods Pro are an exciting addition to the AirPods family that features Active Noise Cancellation and superior, immersive sound in an all-new lightweight, in-ear design.
Each earbud comes with three different sizes of soft, flexible silicone ear tips that conform to the contours of each individual ear, providing both a comfortable fit and a superior seal — a critical factor in delivering immersive sound. To further maximize comfort, AirPods Pro use an innovative vent system to equalize pressure, minimizing the discomfort common in other in-ear designs. AirPods Pro are sweat- and water-resistant, making them perfect for active lifestyles.
Active Noise Cancellation on AirPods Pro uses two microphones combined with advanced software to continuously adapt to each individual ear and headphone fit. This removes background noise to provide a uniquely customized, superior noise-canceling experience that allows a user to focus on what they're listening to — whether it's a favorite song or a phone conversation.
AirPods Pro deliver over 24 hours of listening time or over 18 hours of talk time.2 Charging is as simple as placing the AirPods case on a Qi-certified charging mat or using the Lightning port while on the go.
AirPods Pro deliver superior sound quality with Adaptive EQ, which automatically tunes the low- and mid-frequencies of the music to the shape of an individual's ear — resulting in a rich, immersive listening experience.
MVRTA Goes Fare Free!
The Merrimack Valley Regional Transit Authority has gone fare free for all local fixed route and EZ Trans paratransit services as of March 1 for at least a two-year pilot program.
This pilot program is an expansion of the city of Lawrence-funded initiative that has covered fares on three local routes in Lawrence since September 2019. The MVRTA will be using federal CARES Act and ARPA money for this pilot program.
Officials expect that going fare free will attract new riders, increase patronage of local businesses, offer economic relief to individuals and families who rely on bus service, and connect people to jobs and other economic opportunities.
For more information about specific routes see MVRTA ROUTE INFORMATION.
Shattuck Road Discussions
Shattuck Road / Corporate Drive TMA Members & Property Owners Band Together to Discuss Sewer & Water Infrastructure Issues.
The Merrimack Valley TMA has been diligently working with members and property owners along Shattuck Road and Corporate Drive in Andover to ascertain ownership of existing sewer and roadway infrastructure, hydrant and road maintenance responsibilities and other associated issues. We anticipate further discussions in the next two weeks, followed by a larger meeting including officials from the Town of Andover.
Any MVTMA area business members or property owners looking for additional information about these meetings should contact the MVTMA at commute@merrimackvalleytma.com.
Lawrence Rail Trail
The Merrimack Valley TMA has collaborated with the City of Lawrence on a variety of projects over the past year including working closely with the Mayor's office and the Planning Department as they look towards developing better pedestrian and bike infrastructure through-out the City, bring additional traffic calming improvements to the downtown area streets and to maximize connectivity, walkability and accessibility of the Lawrence Rail Trail through the MassDOT and Groundwork Lawrence/CLF/Lawrence Pa'lante partnership.
The TMA recently attended a trail walk of the portion of the project extending from Manchester Street to Merrimack Street and we wholeheartedly agree with the City and its partners that including bike infrastructure in the scope of the Rail Trail project will provide residents of Lawrence with much greater access to healthier lifestyle choices, better air quality and an amazing trail network from the New Hampshire border, through the City and along the Merrimack River.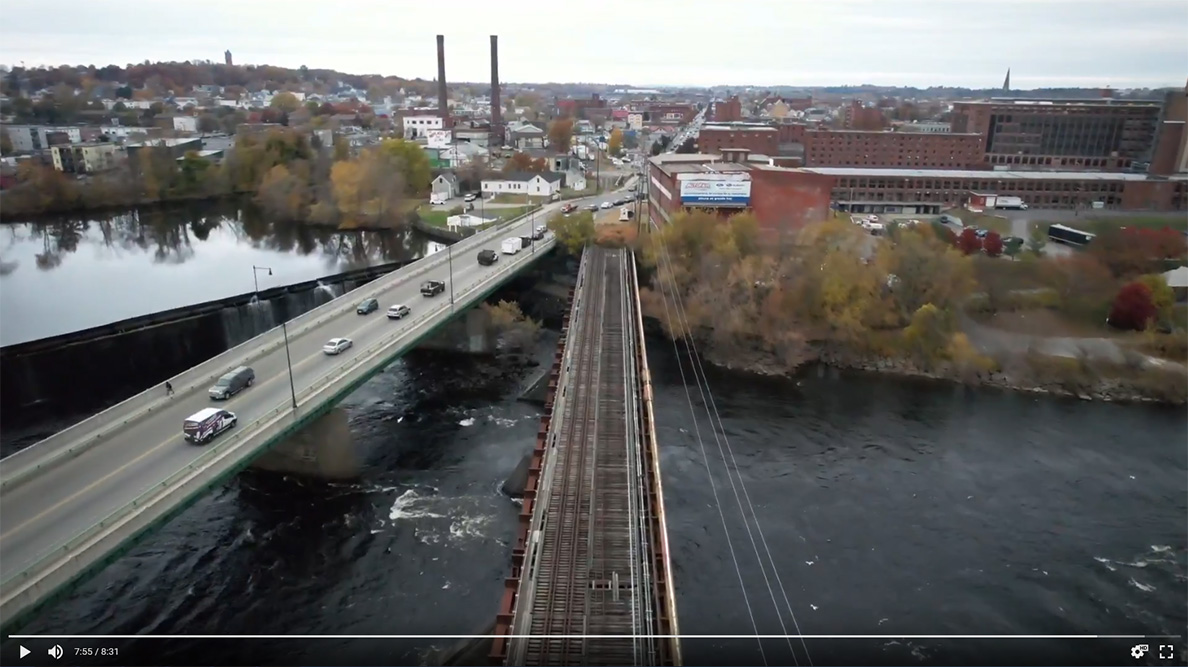 Drone footage of a Rail Trail project the Merrimack Valley TMA is working on with MassDOT, City of Lawrence and Groundwork Lawrence and Lawrence Pa'lante.
Footage courtesy of Francisco U.
Merrimack Valley TMA Public Collaboration
The Merrimack Valley TMA recently participated in a tour which started from the McGovern Transportation Center in Lawrence (where TMA members connect to the MVRTA and the MBTA in Lawrence) and continuing along MVRTA Route 33 in North Andover, in an effort to gain a better understanding of the challenges facing current and potential riders.
We look forward to developing solutions with our service area partners from the Town of North Andover, the Merrimack Valley Planning Commission and the Merrimack Valley YMCA, and the tour's organizer, Rep. Christina Minicucci.
Merrimack Valley Planners' Meeting
The Merrimack Valley TMA staff meets monthly with our service area planning departments to exchange ideas, to determine when and where collaborative efforts might be necessary, and to provide project support as needed. This month we held our meeting outside as we walked the Methuen Rail Trail. Along the way we ran into former mayor, Dennis DiZoglio, who told us he walks the Methuen Rail Trail daily!
Photo: Monthly meeting of Merrimack Valley TMA staff, TMA service area Planners (Lawrence, Methuen, Andover, MVPC), MVRTA staff and Rep. Christina Minicucci.
Merrimack Valley TMA Municipal Roundtable 2021
Merrimack Valley TMA welcomed Town of Andover officials, TMA member businesses and residential community property managers as they convened for their annual Municipal Roundtable event on November 16.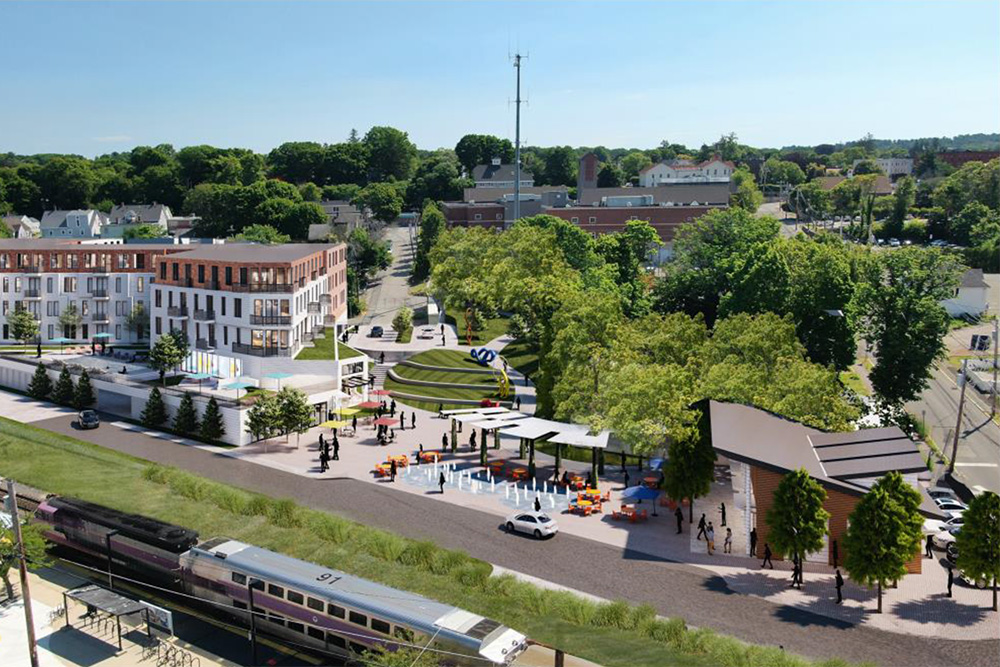 The Roundtable featured updates on the Mobile Town Hall,  a highly anticipated Town Yard redevelopment project, a new development on Minuteman Road, upgrades to the Rt. 133 Corridor, and more!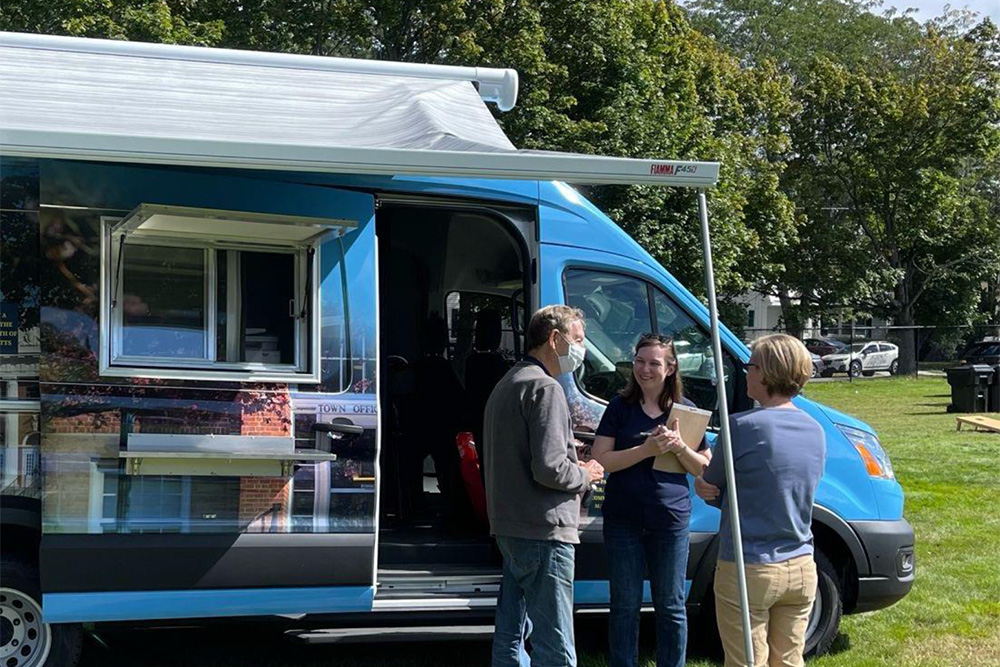 Stay informed…get commuter news & events relevant to the Merrimack Valley area delivered to your inbox.